Nanodiamonds are attracting a great deal of attention due to their exquisite physicochemical properties, which makes it possible to use them in various industry fields such as lubricant oils, ultra-fine polishing, anti-wear electroplating, cosmetics, electronics/IT, mechanical tools, defense, aerospace, medicine, etc.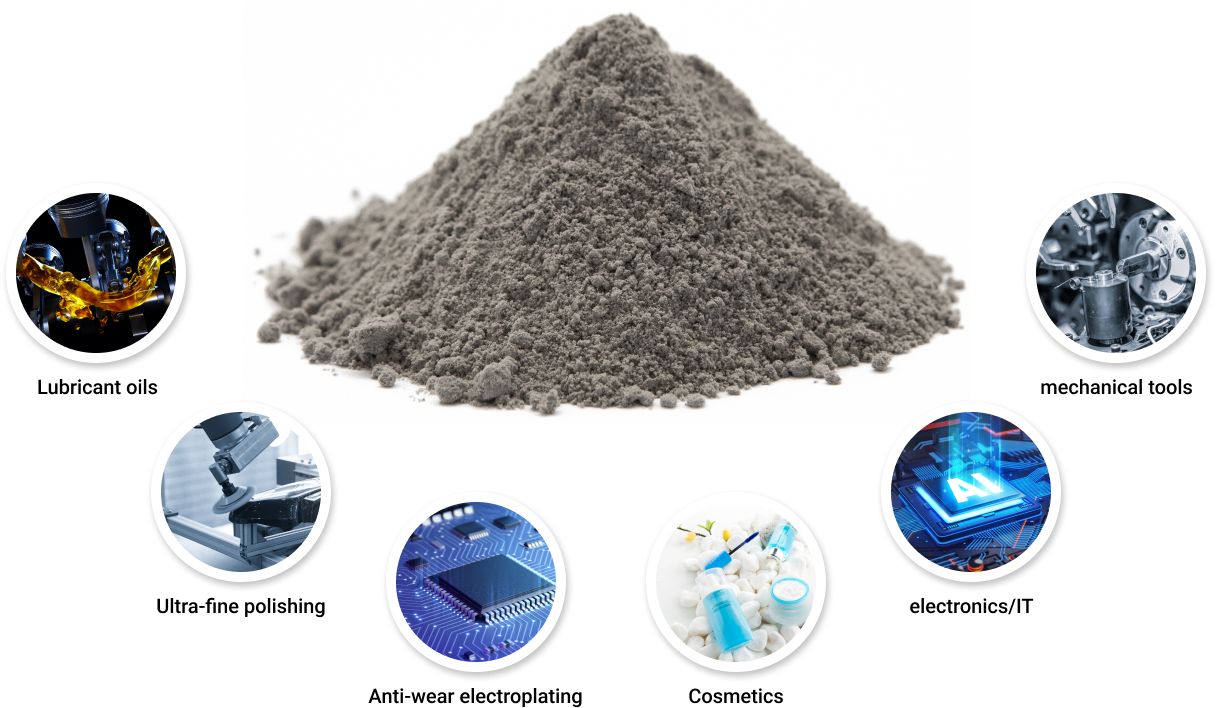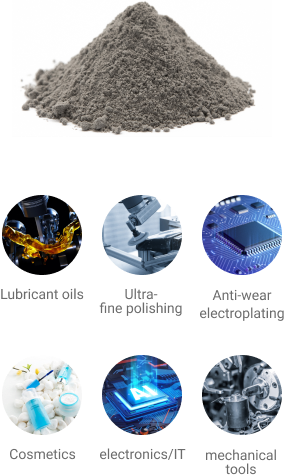 Properties of nanodiamonds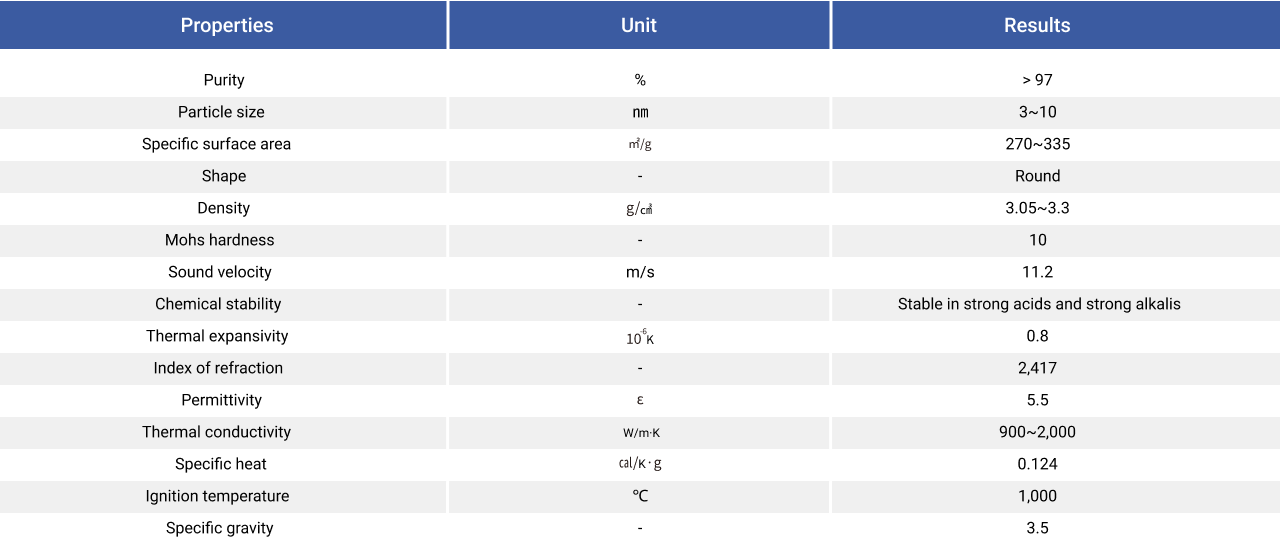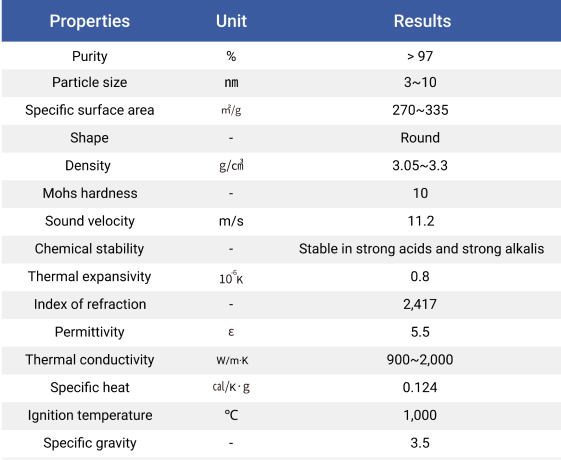 Coatings
Coatings
Benefits

Increase in the microhardness 2~3 times
Decrease in the porosity of a coating layer
Improvement in coating quality
Increase in wear resistance : 2-12 times
Increase in elasticity
Improved corrosion resistance
Application

Additive in polymeric coatings
Precursors in CVD coatings
Thermal diffusion coatings
PVD Coatings
Electronic devices :
conductive circuit elements, via-hole filling for semiconductor integrated circuits, diffustion barriers, through-hole connections for printed wiring boards, and flexible circuits
Punches, dies, matrices and molds
Screws, check valves and sprues
Gears, shafts and pistons
Metal cutting tools
Bearings
Food processing equipment
Petrochemical processing equipment
Gun barrels
Medical implants
Composites
Composites
Benefits

Improved strength and elasticity
Wear resistance
Adhesive strength with metals
Thermal conductivity without compromise to other properties. Thermal conductivity increased 25-100% with 0.1wt% ND.
Increasing heat conductivity while retaining the absolute dielectric properties.
Can be used as radical trapping stabilizers in thermal processing of polymers.
Aging, radiation, scratch and corrosion resistance
Increase in refractive index in thin polymer films

Fluoroelastomer

: nanodiamonds condense vulcanization network, minimize thermal wear, reduce the friction coefficient of films and increase durability in friction nodes by 25-40%

Rubbers

: nanodiamonds increase the degree of vulcanization and cause 1.3-2-fold increase in cohesion strength

Polyurethanes

: nanodiamonds lead to a threefold growth of strength and to 1.5-fold improvement of elasticity

Nitrile butadiene rubber (NBR)

: nanodiamonds considerably increase relative elongation at tear(up to 70%) and wear resistance (up to 40%), while reducing the friction coefficient by two-fold

Polyamide and fluoroplastic

: nanodiamonds enable 1.5-3-fold increase in rupture strength, enhance attrition resistance and tearing strength by a factor of 2-3, as well as ensure 30-50% faster polymerization

Fluoroplastics and polyamides

: ND enable 1.5-3-fold increase in rupture strength, enhance tearing strength by a factor of 2-3, as well as ensure 30-50% faster polymerization
Application

Fluoroelastomers
Rubbers
Polyurethanes
Polyamide and fluoroplastics
Coolants
Membranes
PEEK composites
Thermoplastic heat sinks
Silicone and epoxy thermal interface materials
Abrasion resistant resins
Electronics & semiconductors
Electronics & semiconductors
Benefits

Surface roughness can be greatly reduced when NDs are used in the lapping of magnetic heads. NDs can significantly increase lapping endurance and reduce the friction effect.
High thermal resistance and high particle distributuon
Precise polishing in andstrom units is possible
Surface defects, crystal dislocations, and surface stress are low
UDD suspension is chemically stable, so chemically active additives can be used
No toxicity to liquids, pastes and powders
Thickness of the layer removed from the surface is
Application

Thermal paste for heat management(heat dissipation)
Nanoabrasives in polishing pads for CMP
Insulation materials
CVD seeding
Thermoplastic heat sinks
Cryptography
Quantum computing
Energy
Energy
Benefits

High themal conductivity.
Application

Hydrogen accumulators
Electrodes
High voltage, high energy density, high temperature capacitors
High efficiency catalysts
Battery additives
Biomedicine
Biomedicine
Benefits

Inherent photoluminescence.
Chemical stability
Large specific surface area and high adsorption potential
Optical and physical properties can be turned.
Photostable.
Biocompatibility
Inherently low cytotoxicity and genotoxicity
Rapid transmembrane transport.
High drug loading capacity based on high surcace to volume ratio.
THe presence of nitrogen vacancy (NV) centres in nanodiamonds results in the absorption of the visible spectra and meission in red at room temperature with great temporal stability and almost no photobleaching. A single nanodiamond crystal can produce luminescence brighter than standard fluorescent protien.
Application

Drug and gene delivery
Cancer therapy
MRI contrast agents/biomarkers.
Cell imaging
Protein separation and purification
Filler material for implants
Anti-virals and anti-bacterials